Following consulation with other local schools and authorities, we are closed today, 12th December 2022, due to the heavy overnight snowfalls. Dr Foster has sent the following message to parents and carers via email and our usual lines of communication like ClassDojo:
Due to the amount of snow that fell last night and the distances some of our staff need to travel to get to work, school will be CLOSED TODAY. The roads around school are not safe in these conditions. We will update you later today as to whether we can open tomorrow. Please keep yourselves safe and warm…but do let your children have fun in the snow!

Dr Foster, Headteacher
Please look out for further updates, but remember that the school web site will not be the best or quickest way of finding out about closures. In addition to using ClassDojo, we will also inform local radio stations who give out regular updates about Hertfordshire schools.
We do try to open in wintry weather, but we cannot do so if we are unable to guarantee that enough members of the staff team will be able to get to school in time to keep the children safe, provide the usual meals, and ensure the school premises and grounds are safe. Snow and ice impact the country roads leading into Bayford far more than they do the major highways, and weather conditions in rural areas are often worse than in nearby towns and cities (several degrees colder is normal, and snow tends to form deeper drifts in narrower roads, which are often sunk below the level of neighbouring fields, for example). So please do check for messages when there are adverse weather warnings, even if where you live it doesn't look too bad! We will usually make announcements by 7:00 am if we are closing.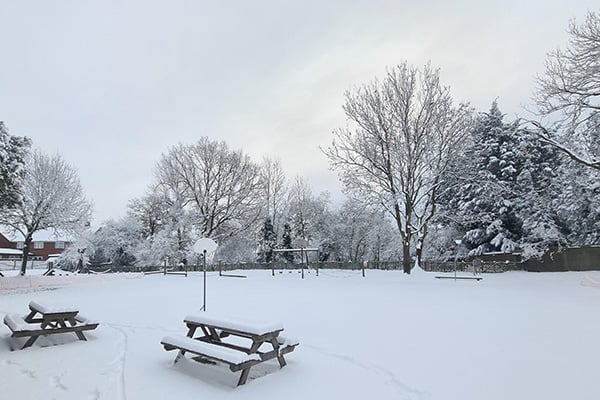 Update for Tuesday 13th December
We are planning to re-open tomorrow. As journeys may still be difficult or slow, we will keep the registers open until 10:00 am so that you can travel later and avoid the worst traffic, and not worry about missing our usual start time. The Early Years Nativity Play will go ahead, but slightly later than originally planned, at 10:30 am.
Please take care on the school site as paths and playgrounds may still be covered in snow and could be icy.