Outdoor learning?
Learning outside the classroom might just mean a trip to a museum or place of worship. Alternatively it might just mean visiting a centre where children can learn a few outdoor skills. At Bayford outdoor learning is something which is a real feature of our school life. Outdoor learning embodies our vision and our aspirations for all the children. Our whole school site is our learning environment, and we teach right across the curriculum all year round outside, in our grounds and in neighbouring woods and fields to which we have access. We're committed to providing fully inclusive, frequent, progressive outdoor learning opportunities for our children so that they can:
Explore outside and make connections with all aspects of their learning
Ask and answer questions of the natural world, reaching their own conclusions
Show care and respect for the outdoor environment
Be inspired and motivated by the wonder of the great outdoors
It's not how most of us spent time in primary school, so this page explains the thinking behind it all!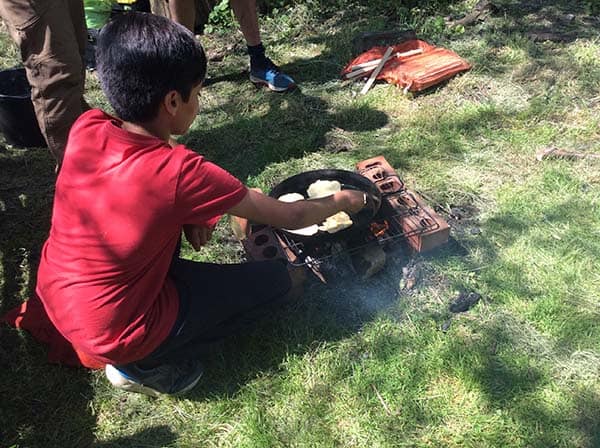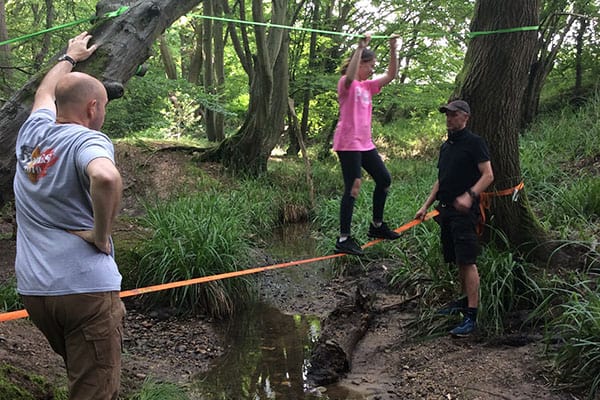 TWiGS Forest School
Throughout the year, once in each half term, we have a special outdoor learning week. We welcome a skilled and qualified visitor to take each class out into the local countryside for one day in the week and engage in all kinds of fun, but educational activities. If you visit the class gallery pages, you can see some of the things children learn: preparing food outside, building shelters, crossing streams using ropes…
This is far from being a day off school. These days are full of learning opportunities and the children learn to live out our values, working together as a team, and building their confidence and sense of achievement. Here are some of the things we believe the children gain:
Consolidating learning through real life, practical activities
Aiding transition to new places and situations
Increasing motivation and willingness to learn
Developing confidence and self-awareness
Developing social and communication skills
Meeting different challenges and becoming more independent
Demonstrating achievement – through displays and presentations
The whole curriculum outdoors
Actually we do use our indoor classrooms, but we also use our great outdoor classroom, not just for forest school or science or PE, but for maths, for English, for geography, for music, for PSHE, for RE… Opportunities for teaching outdoors across the whole curriculum are created whenever possible. These opportunities are shown on our medium-term planning documents. All Learning Outside the Classroom activities take place during curriculum time.
We believe that learning outside the classroom can provide the most memorable learning experiences, providing children with greater independence and physical competence, and developing their language and understanding of the world in which we live. Whilst learning outside the classroom, children are able to develop their social and leadership skills and demonstrate more involvement in their learning, this in turn can have a positive impact on attainment and progress across the curriculum.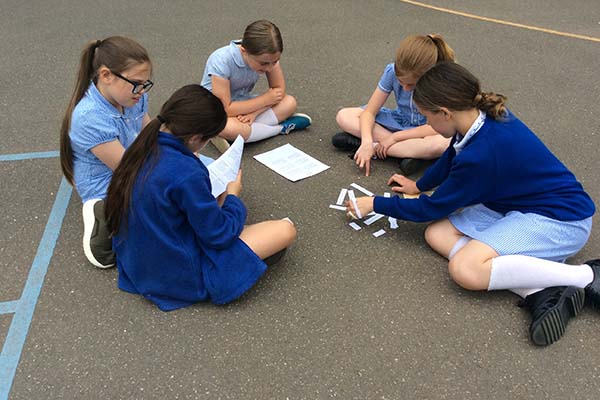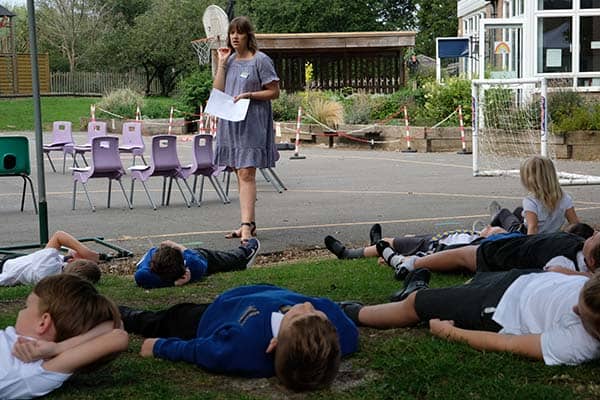 Trips, visits and local links
All classes have trips and visits away from our school site through the year, and you can read more about the practical side of those trips on our 'trips and visits' page.
The older children also have a residential trip during the school week, normally in the summer term (with parents given full details early in the school year).
We maintain and develop close working links within the local community e.g. our parish church or local landowners, and we work with music and sporting professionals, both on and off-site.
This page was last updated on 11th May 2022